Classifieds are a free benefit of membership in the Morgan Dressage Association.  See below for details and posting information. Please click on pictures for enlarged/alternate images. 
Tack and Equipment For Sale
17.5 Karl Niedersuess Dressage Saddle Medium tree, 17 inch flaps, excellent condition! $900 

PayPal

 ready, Deb Mgonigle 815-347-5649
17″

Amerigo Vega Dressage Saddle.

Wide tree, excellent condition, brand new seat. $2400

obo

, trial available. Angela Thayer, tuttlea1@yahoo.com
Horze black rolled leather dressage bridle.  NEW with tags.  Bridle only.  Patent leather noseband and crystal chain browband.  Anatomic monocrown.  $120Pamela Whalon whalonp@hotmail.com
Kieffer "Sylvie" black rolled leather double bridle with reins.  Cob size.   Like new condition.  Only $325. Contact Pamela Whalon whalonp@hotmail.com
All items pictured going for $300 plus shipping. Two bridles are both Red Barn brand. Bridle with white padding is new with 2 reins. Contact: Alison Chickering 603.762.3343
Horsefaith@gmail.com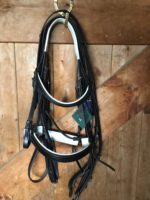 Services
At Stud:  Gladheart Black Harris
Glad
heart Black Harris (DJJJ Ebony Gold X Rogue's Midnight Melody). Currently showing Fourth Level and demonstrating upper-level potential. "Maus" has a pedigree that is rich in Brunk breeding, from lines that have been proven in open competition. Exceptional Morgan type and outstanding athleticism that he passes onto his babies.  www.Gladheartfarm.com. Phone: 541-740-2890.
Horses For Sale
10 year old Morgan mare, started in long lines. 14.2 hh. Lovely disposition, nice mover for lower levels.

$2500. PayPal

ready. Contact Doug Mgonigle, 815-347-5649.
A 2022 black colt who has it all, beauty, type, size and a commanding presence.  A beautiful mover, this well bred colt boasts a pedigree saturated in the best of the best of the Morgan breed. Introducing 
Equinox Rock of Ages
 (Equinox Rock Star x Equinox Charlize). 
These are the lines that have produced World Champions in all divisions generation after generation.  $20k. Contact Alison Chickering
MtnTop Forever Hawk
(MtnTop Whippoorwill Tanek X Gar-Don Lady Glimmer). Black Morgan Gelding, 15.1, Hawk is a Strong combination of the 'golden cross' Jubilee King, Flyhawk/Go Hawk lines. Great Temperament, smart, easy going, is a people Morgan. Classical Dressage and Western Dressage trained to 2nd level/Level 2. AMHA Open High-Point Awards, many Midwest Championship awards.
Hawk is a responsive horse, very aware of riders' body position, so he does need a
confident rider.
You ask Hawk with a light cue and he has a soft mouth. 😍 He makes for a FUN ride! Hawk is ready to take his rider to their next level.
$9K Contact Carol Yates. 248.891.8242 hatsnapper@outlook.com
Training
Kimberlee Barker.  USDF Silver Medalist and 2011 Oregon Dressage Society Instructor of the Year. Available for clinics, lessons and training in the Pacific Northwest. Successfully competing Morgans in open competition through FEI.  kbdressage@pobox.com  541-609-0300.
---
NOTE: Classified ads are FREE for MDA members. E-mail classifieds to the webmaster. The Association reserves the right to limit ads to only 50 words. It is the responsibility of the lister to ensure that ads are up-to-date. Please notify us if you sell an item/horse so we can remove the listing.
(Updated Sep 9, 2023)